4 x CBD Rich Hemp Rolls - Tranquility Blend - VALUE PACK
Tranquility is the quality of being tranquil that is calm, serene and worry free. This is our own blend of our premium hemp flower that can be used for daytime stress or easing a racing mind before bed. 
QTY: 4 x .65 Gram Premium Hemp Rolls
STRENGTH: 18%+ Total Cannabinoids
TYPE: Proprietary Blend
MORE INFORMATION: Our hemp flower is grown on our own farms located in rural California. A combination of factors including the elevation, soil, climate, sunlight and artesian well water allows us create a truly unique product.
Although these product are grown legally and are considered industrial hemp, they do contain trace amounts of THC. It is not recommended to use this product if you are subject to drug testing for personal or professional reasons.
We are one of a few vertically integrated, seed to sale product manufacturers. We control every aspect of our production from the seed propagation, growing, extraction, to the finished product sitting on your shelf. The key benefits of this model are; we have full control of our raw material costs, allowing us to offer competitive pricing across the board, and not only transparency, but full traceability from start to finish.
We are currently the only ones growing hemp in our location so we prefer to keep it a secret, as the growing conditions are nearly perfect. We are blessed with artesian well water, high elevation and mountains surrounding us acting as a rain shadow, our desert like conditions offer us warm days and cool nights, allowing our plants to rest and refresh. We are very proud to have premium nugs on top of extractable flower, having proved that outdoor hemp can be grown in the desert.
SEED PROPAGATION
To ensure product transparency, we have created our genetics and seed program that allows us to test and combine genetics to ensure we obtain the best available flower with a terpene profile that sets us apart. Our genetics and seeds are not for sale and are now perfectly dependable strains that will not only grow organically in our desert climate but also have the terpene profile to showcase the potential of our formulations. 
SEEDING
Our seed to ground growing method has proven effective with the help of our Monosem N6 with accurate seed spacing and most importantly consistent depth control to ensure the highest possible germination. This strategy brings the savings to our clients as it reduces costs and keeps the grow cycle as natural as it gets. 
HARVEST
Our premium flower is hand picked, transported and set to dry by our expert staff. The most common method to shuck hemp is by hand. The problem with this method is it's extremely slow, inefficient, and expensive. Our custom made Combine Harvester not only mechanises our harvesting procedures but also reduce the amount of biomass storage needed by almost 48% by harvesting, shucking and separating our flower and stems all in one process.
DRYING & CURING
With over 40,000 sq. ft. of available drying space, our smokable flower is dried and cured for 4 days before it is chucked and hand trimmed. By using our ventilation and heating system we naturally slow-dry our flower to preserve flavor,  terpene profile and of course its beautiful premium nug look.
EXTRACTION
The crown jewel of the process. Our ethanol extraction system used to create our products comes from a long line of medical extraction systems used by the biggest names in the industry. With a daily capacity of 3,000 lbs our facility can process large amounts of flower while separating terpenes and minors to create the best custom formulations.  
FORMULATION
Through our extraction facility we are able to create Full Spectrum, Broad Spectrum, CBD Isolate, and through further methods, nano-emulsified water soluble versions. All of these key ingredients and formats give us tremendous flexibility when it comes to creating proprietary formulations for our products.
FINISHED PRODUCT
ERTH, as brand was designed to capture a unique blend of the kraft market feel with a beautiful metallic colored element to bring the product to life. We currently offer a wide range of varying products from Topicals, Tinctures, Smokable Flower, Pet Products and more! All of our products contain a unique QR Code that will show you the active cannabinoid profile of the product. 

In addition to great products, we also provide CBD education through our blog "Is CBD right for me?". There you will find articles such as: "Will CBD Help with my Anxiety?", "Will CBD help with my Insomnia?", "Can my dog and cat benefit from CBD?", and "PTSD & The Benefits of CBD for Veterans".

This is an exciting industry to be in right now and we are excited to share our amazing products with you. We hope that ERTH will become your most trusted CBD company.
CONTACT US ANYTIME:
1-866-804-ERTH | support@erthhemp.com
FACEBOOK & INSTAGRAM:
@ERTHHEMP
If you are not completely satisfied with your product please Contact Us or call us at 1-866-804-ERTH, we are CBD specialist and are here to answer any question you may have regarding your product.
We will be happy to refund 100% of the unused portion of the product upon safe return.
Before returning please contact us for an RMA#.
Customer Reviews
11/27/2020
David
United States
Truly a great product
I just tried two hawk for the first time. I feel relaxed and calm before bed. I suffer from anxiety, depression, panic attacks and ptsd. None are there right now. I am hoping that this might help my ptsd bad dreams tonight. I highly suggest trying this product if you have a hard time sleeping or need to relax.
11/11/2020
Holly D.
United States
Two Hawk haze is the bomb
I'm thoroughly impressed with the quality of this cbd bud, in my opinion it is definitely worth it to those of us that can't get away with smoking the real deal thc potent options. Can't wait to make another order!!
08/16/2020
Eva H.
United States
Absolutely amazing
I love every kind of cbd flower ERTH sells. But Two Hawk is so good. Relaxing but not too much. I can smoke this day and night. So if I need some time to relax from the stresses of life during this crazy world we live in, I can smoke some Two Hawk and get some great relief. I actually gifted some to a friend. And he said it's the best he's ever had. Great packaging. I love that they put in those humidity control packets in the jar. They keep my bud nice and fresh as if it was freshly picked right off the plant. Im constantly amazed by these products. The bus feels so good to break apart. I've tried other vendors and man they are always selling dry, old cbd flower packaged terribly with zero humidity control and no air tight jars. ERTH is far superior to every other cbd product seller out their. I can promise Two Hawk will not disappoint.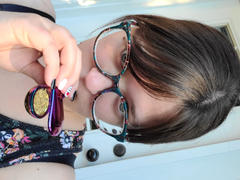 06/27/2020
Timothy M.
United States
Absolutely love your flower products
I've had an amazing experience ordering from y'all. Best cbd products I've tried and your customer service is great. I ordered a quarter of the Kingston kush and y'all accidentally sent me an eighth but you guys definitely made it right by sending me the quarter anyways. Thanks guys keep up the awesome work
05/03/2020
Ryan
United States
good
is not bad. It's smells great tasty but so much. But it does help with my back pain like I want so can't complain there. Might try different ways to smoke it to see if that will help with taste